St Thomas More Catholic Primary School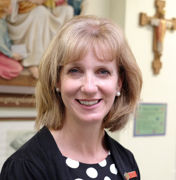 The Headteacher, staff and governors are highly ambitious for St Thomas More School and we aim to make it an exciting place to be! We firmly believe that it is not just about what is taught, but how it is taught that makes a difference to the lives of our pupils.
As a Catholic community, the person of Jesus Christ is at the heart of our teaching. His example provides the inspiration for exploring core Christian values as we seek to support our pupils to better understand themselves, identify what is important to them, and demonstrate understanding and respect for other people.
We provide a dynamic and innovative approach towards developing the best provision for our pupils. We support pupils to develop positive learning habits and we are recognised by UNICEF as a 'Rights Respecting School.' Ultimately, we aim for our pupils to become active, ethical and educated citizens who are fully prepared to assume their role in society.
Jane Perry, Headteacher