St Michael's Catholic High School
St Michael's Catholic High School is a Catholic Comprehensive School with the mission statement
'Bringing Christ to All and All to Christ'.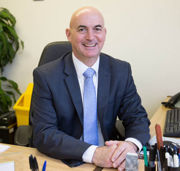 Our motto, in keeping with our Dominican roots and heritage, is 'Veritas' ('Truth').
The school was founded by Dominican Sisters in 1955 and since then the ethos of the school has been and is distinctively religious.
Our mission statement, motto and spiritual, moral, cultural and social education permeate the whole of school life.
As a Catholic school, we aim to be a sign in the local community of the person of Christ who sought excellence in all things.
As a Dominican school, it is important that our community is based on prayer and preaching the Gospel by our positive example and high academic performance.
The greatest strength of the school is the people who work here and the students who study here with a genuine desire to succeed.
Edward Conway, Headteacher